The debut doesn't come much better than it did on Saturday.
Six players in total won the first caps, while for Dannah O'Brien, Aoife Dalton, Méabh Deely and Natasja Behan their first Irish starts went like a dream.
Dalton and Deely both crossed for tries in the 57-22 win over Japan, while O'Brien put together the game with maturity in the 10 shirt, while making an impressive six conversions from nine attempts. And although Behan was not on the scoresheet, she came close to a try late in the game after netting a brilliant cross kick from the sky.
For 10 or 15 minutes, it looked like the four newbies were going to have a long day. Ireland barely touched the ball in the opening 10 minutes, conceding two tries and a penalty to trail Sakura XV 15-0.
"I knew myself that once we had the ball in attack, we would be ready," Deely said.
"It was a case of it happening, it took us 10 or 15 minutes to get the ball and show what our attack was about.
"What I was really proud of was that we turned around and didn't give up. I think, especially with such a new group and new caps, we felt we had to really step up. , and I think we did it really well."
The Blackrock and Connacht full-back played a key role in the try that brought Ireland within reach. After Neve Jones had earlier put Ireland on the board after a maul, Deely linked up with central partner Enya Breen to put Aoife Doyle in the corner.
The scoreline brought Ireland within three, but after opening up the hosts' defense so easily, Deely said more scores were inevitable.
"Our free-kick was going brilliantly, and the attackers were doing really well and got the first try, then once the backs got their hands on the ball, we had a try.
"I think after that try we knew we had that. We took the lead at half time and we were so confident. We knew we hadn't won so we knew we had to keep going. From those first two tries we were on the rise and I think we stayed there," she added.
In the second half, that same back line move between Breen and Deely again sent the latter through a gap in midfield, but this time she didn't need a supporting run, sprinting to the line for a sensational first try.
"I knew that gap was still open, so we went with the same move [as Aoife Doyle's try] and it worked out well in the end, it was awesome.
"Everyone ran towards me, I didn't expect it at all. The whole team comes to hug you, it's an ecstatic feeling, it's amazing."
While Greg McWilliams was taking a gamble with such an inexperienced team, it was a calculated gamble, with Deely explaining how many young fullbacks know each other's plays well enough.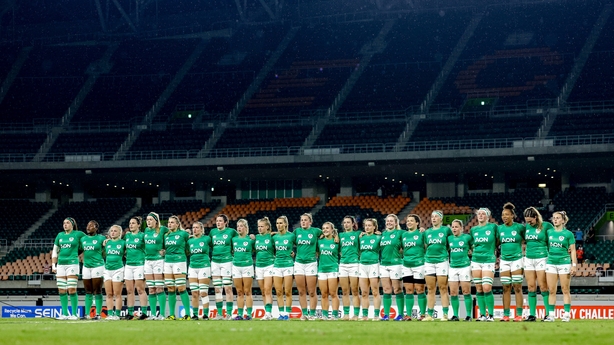 "I didn't feel like there was a lot of pressure on us, and especially with Aoife Dalton and Natasja Behan, us being 13-14-15; I've known them for a while and played a lot of rugby sevens and clubbing with both of them, they weren't new to me.
"It was easy to go with them, even with Enya, I've been playing with her since I was a minor. Even though we were a new band, we had a lot of experience together.
"I think Greg gave us so much confidence, and that really helped because I knew there wasn't a lot of pressure on me. Same with Niamh Briggs, it was just nice to have that support ."
For Behan, Saturday's debut ended a nervous wait. After being selected for Irish side Tiktok Six Nations earlier this year, the Wexford native admits to some hurt pride after his debut failed.
McWilliams named the Blackrock wing as someone who returned to summer camp with renewed energy, having spent time ironing out the wrinkles in his game.
And she says having been through disappointment earlier this season, the first feeling was very sweet.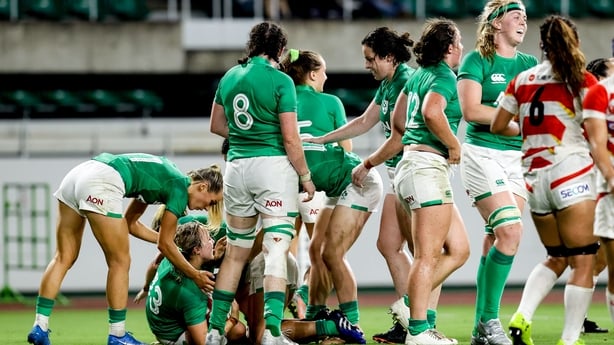 "To be honest, it's amazing. When I was on the pitch, I couldn't believe it. It's really, really good and we feel really, really positive after the win. So we're happy." said the 22-year-old.
"Not having the cap during the Six Nations made me realize how much I wanted it more. It was more of a positive thing for me.
"Obviously at first I was a bit depressed. But you just have to pull yourself together. I just knew what I wanted at that moment.
"It was a tough few months in training, I gave up a lot in terms of friends and departures and stuff like that. It all paid off in the end, I'm thrilled now and happy that I persevered."
Ireland have since moved on to Tokyo, where they will face Japan in the second Test on Saturday, and Behan said she is keen to go even further, having acclimatized to the heat and humidity.
"We're excited to get going and get a win under our belt. But we had a couple of mistakes today so we have to work hard to fix them and have another good shift next week," he said. she added.